Gwaii Haanas

Click Here To Download
The Gwaii Haanas Canoe Guide
Gwaii Haanas National Park Reserve, National Marine Conservation Area Reserve, and Haida Heritage Site, often referred to simply as Gwaii Haanas, is a 1,470km2 protected area of 138 islands located in southernmost Haida Gwaii, 130 kilometres off of mainland British Columbia. It is the ancestral, and current, territory of the Haida people.
Often described as "the Canadian Galapagos, Gwaii Haanas is a remarkably rich and biodiverse temperate rainforest. Giant moss-covered hemlocks,spruce and cedar tower overhead, and the seas and skies are alive with wildlife. Numerous seabirds including puffins, auklets and murrelets abound, and bald eagles and ravens are so common that before long you'll stop remarking on them.
Seven whale species, including humpbacks and killer whales, frequent these waters and most days will likely include a whale sighting. Sealions and the ever curious harbour seals are also a regular sight. The Haida Gwaii black bear, a subspecies of the American black bear, is specially adapted to crush shellfish with jaws larger and stronger than those of its mainland relatives. When the salmon aren't running, the bears attain most of their sustenance directly from the ocean, where they are regularly seen feeding along the shores.
The shores in the tidal zones are alive with life. In many places you can look down at the edge where the water meets the land and count dozens of crabs per square metre. Burnaby Narrows, a 50-metre wide shallow channel between Moresby and Burnaby Islands, has some of the highest levels of biomass of any intertidal zone in the world. At Burnaby Narrows, on average, there are 74 bat stars per square metre, where they must compete for space with moon snails, mussels, barnacles, limpets, periwinkles and clams, hermit crabs, sea cucumbers, star fish, and the numerous other species found in these waters.
Canoeing in Gwaii Haanas also allows you to experience the unique cultural heritage of the Haida. Haida Watchmen welcome visitors to five sacred island sites, where these on-site guardians share their knowledge of traditional culture and bring their ancestors' villages to life. Whether ancient carved poles, longhouse ruins, or hot springs, each of the five Watchmen sites provides a fascinating view into the traditional and contemporary culture of the Haida. Be sure that you canoe by and visit at least one of these sites. T'aanuu Llnagaay (Tanu), K'uuna Llnagaay (Skedans), Sgang Gwaay (Anthony Island), Gandll K'in Gwaay.yaay (Hotspring Island), and Hlk'yah GawGa (Windy Bay) should not be missed.
The Gwaii Haanas National Park Reserve, National Marine Conservation Area Reserve, and Haida Heritage Site is cooperatively managed by the Archipelago Management Board, which is comprised of an equal number of representatives from the Council of Haida Nation and the Government of Canada. The Archipelago Management Board is responsible for all aspects of planning, operation, and management of Gwaii Haanas.
Most visitors tripping in Gwaii Haanas do so by kayak, and canoes are a rare sight in this big water of the Pacific Ocean. This is somewhat ironic, given that the method of travel used by the Haida for millenia has been dugout canoes fashioned from the giant cedars of the island. Whether by canoe or by kayak, Gwaii Haanas is one of the most rewarding canoe or kayak trips anywhere. The overall biodiversity and abundance of charismatic wildlife is unparalleled, as is the experience of the historical and continually evolving culture of the Haida.

Click Here To Download
The Gwaii Haanas Canoe Guide
HISTORY OF GWAII HAANAS
It was not so long ago that the island of Haida Gwaii was connected to mainland North America by a low-lying plain. This was a time when a vast amount of the oceans water was tied up in glacial ice that covered much of the North America continent, leaving sea levels much lower than they are today. Large herding mammals such as mammoth, bison or mastodons would have roamed this plain, and at one time there were grizzly bears in Haida Gwaii. It wasn't until about 14,000 years ago that rising sea levels covered the plain, and isolated Haida Gwaii, as well as the plants, fungi and animals living on them, from mainland British Columbia.
Remarkably the human history of Haida Gwaii begins at about this time. A 2014 archaeological discovery found what may be the oldest known settlement site in Canada, near Gwaay Guusdagang (All Alone Stone) in what is now Gwaii Haanas. Estimated to be 13,800 years old, this site now rests far below the ocean's surface. Numerous similar historical Haida ancestral sites dot the shores, giving evidence of the survival of the Haida through significant geological transformation.
The biggest blow to the Haida was, in the mid seventeenth century when Europeans introduced various diseases to Haida Gwaii. Most significantly, the smallpox epidemic of 1862 reduced the total Haida population from between 30,000 and 60,000 to fewer than 600 people. Policies of cultural genocide in the 19th and 20th centuries made the Haida language, belief system, and freedoms of expression and movement illegal.
Their land was also destroyed. By the 1960s, logging activities and unrestricted clear-cutting in Gwaii Haanas had destroyed many salmon rivers, inter tidal areas, harvesting areas and archaeological sites. The introduction of invasive species such as beavers and deer by the British Columbia Game Commission has also caused extensive damage to the ecosystem- a process that continues to this day. Through the 1970's and early 80's clear-cut logging continued against the wishes of Gwaii Haanas. By 1985 the Haida had had enough. In October 1985, Haida citizens set up camp in Hlk'yah GawGa (Windy Bay) and blocked access to the logging road. The Council of the Haida Nation also designated Gwaii Haanas land and marine areas as a Haida Heritage Site.
In response, on November 16, RCMP officers arrested 17 Haida elders. The blockade continued, and in total 72 Haida were arrested protecting their land. Finally, in 1986, the federal and provincial governments committed to designate Gwaii Haanas a national park reserve.
Continued negotiations resulted in a 1993 agreement between the Council of Haida Nation and the Government of Canada to cooperatively manage the park through the Archipelago Management Board. Recognizing the interconnectedness of the land and the sea, the Haida fought for and in 2010 finally won, protection of the marine ecosystem with the signing of the Gwaii Haanas Marine Agreement, making this one of the only places in the world where a representative area is protected from mountain top to ocean depth.
In August 2013, the Haida Nation and Canada together raised the Legacy Pole and feasted to honour the Gwaii Haanas Agreement's 20th anniversary. It was the first monumental pole to be raised in Gwaii Haanas in over 130 years. Placed where Haida protesters originally gathered in 1985 to halt logging at Hlk'yah GawGa (Windy Bay), one of the five watchmen sites. While canoeing Gwaii Haanas it is well worth a visit to see this fitting symbol of the protection of these lands and the re-assertion of the Haida's inherent to them.
You Can Help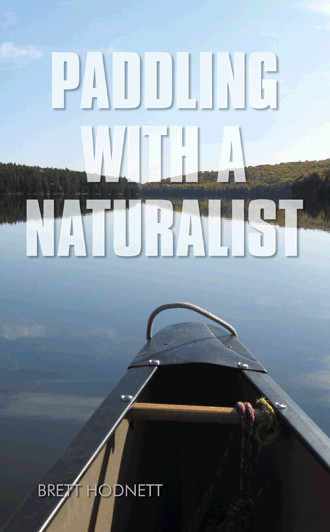 If our efforts at Hodnett Canoe Guides have produced something that you find useful, or perhaps just enjoyable, it would be great if you could help us out. I believe that the most pleasurable way to do this is by purchasing a signed copy of my book, Paddling with a Naturalist, for just $16.50. I think you will enjoy it. If you don't like nature, canoes or reading, or if you already have too many copies of Paddling with a Naturalist, you can also make a small donation.
Thank you.
Order Your Signed Copy